The Wonderful World of Wicker And How To Incorporate It In Your Home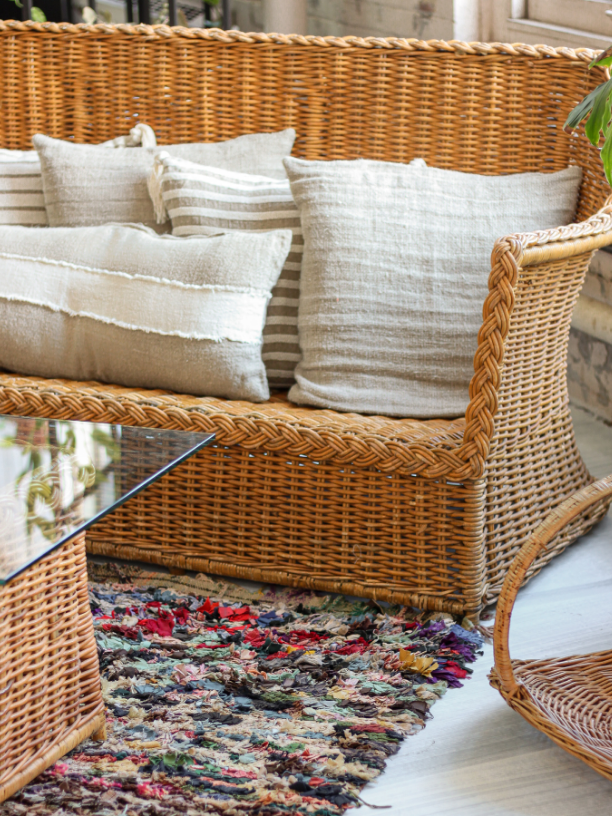 Used for thousands of years, wicker as we know it gained popularity in the 1800s Victorian Age. With trade routes becoming established, and the discovery of rattan's (the base used under woven wicker) strengths, wicker was due for a revival during the Victorian Age. Wicker furniture was lightweight, lower cost, and easy to clean. We're blessed here in the south to have grown up with porches and sunrooms full of wicker. When I got to pick out furniture for my redecorated bedroom when I was 13, I chose all white wicker furniture with blue decor. Those pieces moved around my mom's house and various apartments of mine. I'm down to just one piece-a classic style armoire that is currently the closet in my sunroom/home office/guest bedroom. It use to be in my bedroom where my ex boyfriend could keep some clothes and items.
Different trends of wicker come and go and the style now I see the most is a gorgeous coastal Hamptons that Serena & Lily embodies perfectly. 
This is a fabulous 1980s Ralph Lauren Polo Wicker 2 Piece Armoire that I sold earlier this spring to a lucky buyer in Texas. It would be at home anywhere from a living room to bedroom. 
I also have this pair of 1980s White Metal Palm Lamps With Wicker Shades in my Chairish shop for $298. These add a dash of coastal no matter where you live and would look stunning on credenza in an entryway.
Ready to shop these wicker wonders for yourself?! Below are some of my favorite vintage finds on Chairish. You can find wicker new and if you are shopping for your outdoor space, you will want to shop for new wicker pieces. However, shopping vintage is great for the environment, plus the character of vintage wicker cannot be beat. Happy shopping friends!